Latest MILF Scenes
Ruby O'Connor's first big, black cock
"I had had a couple of threesomes, and the guy I had the threesomes with moved away," said 56-year-old wife, mother and grandmother Ruby O'Connor from Arizona. "So he said, 'You need to join a swingers website,' and me and my husband did, and it was funny because the very first night we joined the website was a meet-and-greet and hotel takeover, so that was my introduction to the swinger lifestyle, and what was funny about that was I found out what a Sybian is. "A Sybian is like riding a bull, but you have a cock on it that's remote-controlled. That was quite an experience! I didn't wade in.
Cyndi Sinclair's anal adventure
Poor Rion. He stayed over at his girlfriend's house last night and can't find his belt. Probably misplaced it while he was throwing off his pants so he could fuck her. So he calls his girl on his cell phone, and she suggests looking in her mother's room.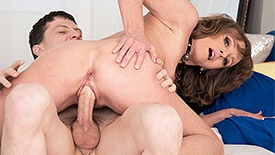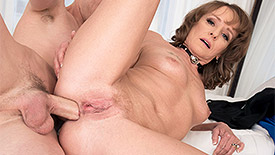 Justine gets her hairy pussy banged
"I'm dominant and very sexual," said 53-year-old divorcee, mother and grandmother Justine, aka Goddess Justine, aka Badd Gramma. "I know what I want. I'm very intuitive. I can go with the flow." This video opens with an interview, in which the blonde hottie tells us all about herself.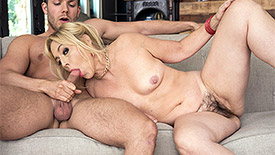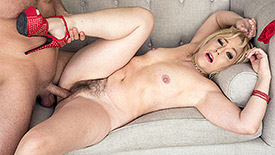 Top-Rated XXX MILFs