Latest MILF Scenes
Keli Richards gets her old ass pounded
When this scene opens, 52-year-old Keli Richards is wearing a tight, white top and a tight, short, pink skirt and checking out who's been sleeping in the guest bedroom. It's her son's friend JMac. She's had her eyes on him for a while. "I'd just love to take his cock up my ass," she says.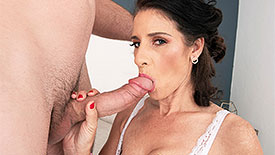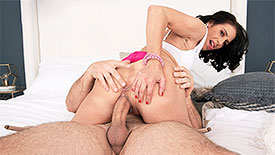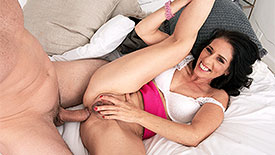 Shannon's long-awaited first XXX
You wish you had a masseuse like Shannon Blue, a 53-year-old divorcee from the UK. Shannon is dressed for tips in a low-cut dress that shows off her huge rack. Max, who's 24 years younger than Shannon, is lying on the table, thinking he's going to get an ordinary massage, but then Shannon leans over and smothers his face with her tits, then she takes out his cock, pours oil on it and gives him the greatest hand job he's ever had. But Shannon isn't done with him.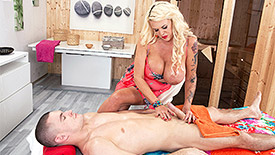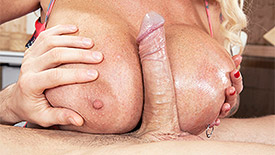 Ruby O'Connor's first big, black cock
"I had had a couple of threesomes, and the guy I had the threesomes with moved away," said 56-year-old wife, mother and grandmother Ruby O'Connor from Arizona. "So he said, 'You need to join a swingers website,' and me and my husband did, and it was funny because the very first night we joined the website was a meet-and-greet and hotel takeover, so that was my introduction to the swinger lifestyle, and what was funny about that was I found out what a Sybian is. "A Sybian is like riding a bull, but you have a cock on it that's remote-controlled. That was quite an experience! I didn't wade in.
Top-Rated XXX MILFs