Join Now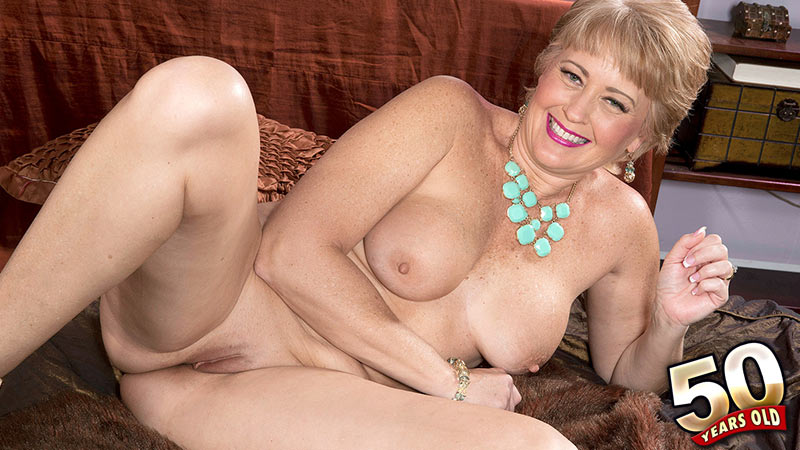 Tracy Licks
"In my younger years, I sold real estate, which I enjoyed very much," 50-year-old Tracy Licks from Tampa, Florida said. "Then I was a stay-at-home mom for many years while my children were younger. As they grew, I had a few part-time jobs to accommodate all of our busy schedules, and now I have been working at home on my website. I used to be a soccer mom by day and a horny housewife by night, but now the kids are all out of the house and I can do whatever I want!" Like fucking studs in our studio and wearing sexy lingerie and putting on a tits, ass and pussy show for all of us to see. That's what she's doing here. Talking dirty, too. Tracy is a beauty with a great body, and she loves spreading her pussy. "Is it nice and wet?" she asks. Heck, she has her fingers in it. She should know! "I've had a lot more than one gang bang," Tracy said. "With other girls, we've taken on 15 or so guys, but by myself, I want to say maybe eight, and that was a pretty good turnout. We did it in an apartment in New York City. We had a combination of white guys and black guys, not really too young but middle-aged. Everybody was nice and hard, and it was very fun, and I got absolutely covered in cum by the end of the night. Blow jobs, hand jobs, fucking...we were doing it all." What would you like to do with Tracy?
More 50+ Scenes »
Jillian Foxxx
These two dudes have no idea why they were invited to Jillian's house, and they're a little bit concerned. They both used to fuck Jillian's daughter. Is Jillian going to give them a tongue-lashing? Well, not exactly. But kind of. Is she going to ream them out for fucking her daughter? Well, somebody's gonna get reamed, but it's not gonna be the guys. It's gonna be Jillian. Jillian, who's 50 years old, has invited the boys over because she wants them to fuck her and film it. She wants to suck their dicks, and she wants them to fill her pussy and ass at the same time. Because when it comes to sex, mother knows best. "Guys love my blow jobs because my throat feels like a really wet pussy," Jillian said. "I'm always looking at the guy when I'm giving a blow job. I think eye contact is so important, especially in porn. Guys want to see me looking at them. If I'm looking right into the camera when I have a cock in my mouth and another one in my ass, the guys who are watching the movie think, 'Look at that dirty slut. She's doing this just for me.'" Truth be told, Jillian's doing it for herself, too. She's certainly not doing it for her daughter.
More 50+ Scenes »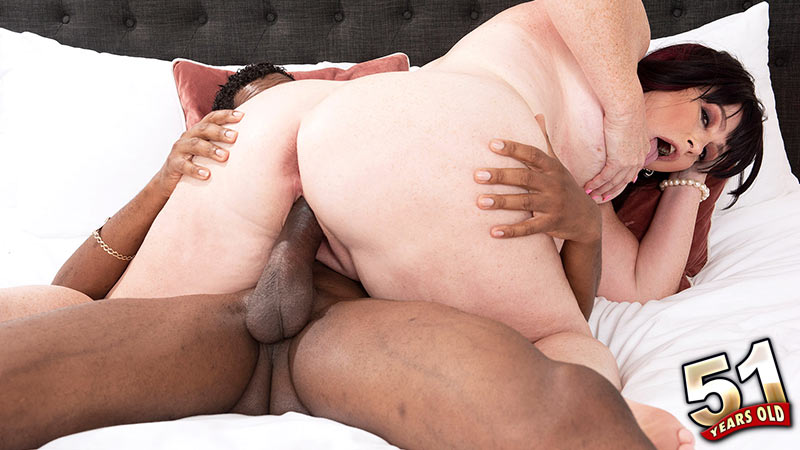 Sherry Stunns
"I would like a female companion for the evening," Jonathan says when he calls the escort service. "I like it rough. Smacking and a little choking here and there. You know, the usual." The usual? Nothing about this is going to be usual because his lady of the evening is Sherry Stunns, a 51-year-old divorcee and mom who has a wrestling fetish. "Let's go upstairs where I can fucking molest you," Sherry says when she shows up. "I heard you wanted a dominant one." She pushes him down onto the bed and straddles him. She stuffs her big tits in his face. "I'm going to use your face for other things," she says as she positions her pussy on top of his face. "Inhale that pussy." He can barely breathe. "Have some more pussy, good boy," she says. She covers his face with her big ass and teases his cock, then she demonstrates some wrestling moves on the lucky guy. Did we say "lucky"? "You know what this is?" Sherry says. "It's a rear naked sleeper hold with body scissors. I have total control of your breath. I could just knock you out and take advantage of you. You'd wake up with a puddle of cum on your fuckin' cock." Right about now, the line between pain and pleasure has been blurred. "I want to put you in a camel clutch," she decides. The camel clutch...The Iron Sheik's signature maneuver back in the old days of pro wrestling. Jonathan likes Sherry's version a lot more than Hulk Hogan liked the Sheik's. Of course, Hogan vs. Sheik was nothing like this. Sherry puts Jonathan in a leg lock while he eats her pussy. She finally gives his cock and balls some attention. Then Jonathan bangs her from behind and in other positions as Sherry moans, "Fuck my cunt!" In this scene, nobody taps out. Jonathan shoots his load all over Sherry's big tits. She rubs it in. Jonathan has definitely gotten his money's worth.
More 50+ Scenes »