Beth McKenna
"I'm really enjoying sex with the young guys," said Beth McKenna, a 52-year-old wife from Mississippi. "Their bodies are amazing, and I find they can keep up with me much better than the older fellows. I'm intense and like hard sex, so I do better with younger guys who can keep up with me." In this video, her first at 50PlusMILFs.com, sexy, long-legged Beth fucks 24-year-old Jason, a guy who's young enough to be her son. Here, he's her daughter's boyfriend, and she catches him hiding in her bedroom closet, watching her getting dressed and putting on sexy stockings. "Get out here. Who is that?" Beth says when she hears some stirring in the closet. "I'm sorry. I really didn't mean to," Jay says. "I mean, I've always had a thing for you." "Oh, so you like older women?" "Yes, ma'am," he stammers. He's definitely nervous, but he calms down--and his dick shoots right up--when Mrs. McKenna takes his cock into her mouth, and he's definitely at full attention when he's fucking her pussy (which is trimmed and topped with a nice amount of hair). We said Beth is tall: She's 5'10", so we weren't surprised when she told us she played basketball and volleyball way back when she was in high school. "I still play some," she said. "I occasionally watch football. I also follow women's basketball." And get this: When we asked Beth if she wears panties, she said, "I prefer Commando, and, in fact, my nickname back home is Breezy for this reason. If I wear panties, I prefer sexy, lacy panties that remind me of how sexy I feel and what I want to do to the people who get to see them." "Breezy"...we like that.
More 50+ Scenes »
Beth McKenna
Beth McKenna's friends and family back home in Mississippi don't know that this 52-year-old hottie is here, fucking herself with sex toys and, later in the week, having sex with a young stud for all the world to see. But if they found out, they would be... "Very surprised," Beth said. "I try to dress very casually at home, partly so people that don't know won't suspect. And my job, law, requires that I act properly and professionally, so I tend to dress and act conservatively at home. Most of them would never imagine how I spend my free time away from home, and I love knowing that." They'd be so shocked to see what Beth is doing here: fucking her pussy and ass with dildos--DPing herself--while sucking on another dildo. But she's a very sexy woman-long--legged with a beautiful body--and we think she's exactly where she belongs. "I played basketball, volleyball and softball in school and still play some," she said. "I love fitness and being outside. I live on a lake, so I paddleboard, kayak and swim and I run and bike for fitness. I do like to read and listen to music a lot. I also spend time with my family, and I have dogs and cats that I enjoy." Basically, Beth is the typical woman-next-door. What makes her not-so-typical is that she's here, doing this. We're very happy to have her.
More 50+ Scenes »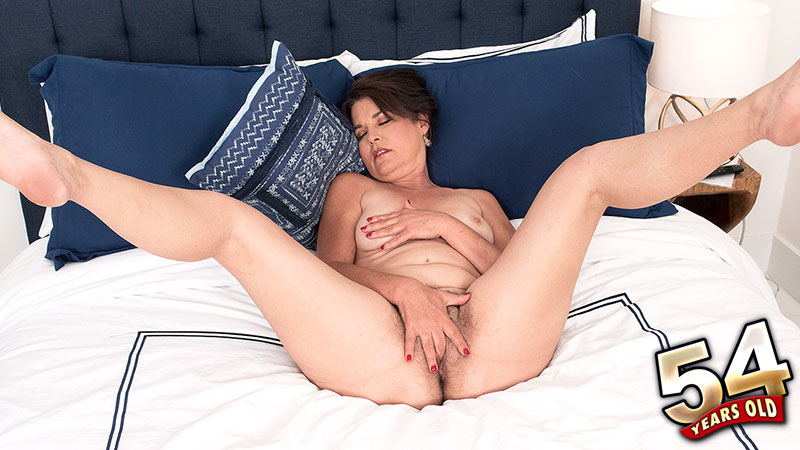 Kelly Scott
In this scene, Kelly Scott, a 54-year-old divorcee, mom and grandmother, is a flight attendant who comes home with one of her young passengers. She takes off her sexy dress, spreads wide so we can see her hairy pussy and then shows us how an older woman likes to cum. The scene is shot so it's as if Kelly is putting on a show just for you. The emphasis is almost always on Kelly's bush. 50PlusMILFs: Let's talk about the bush. Have you ever shaved your pussy? KELLY: I have. I don't like growing it out, but I'm lazy and sometimes I've shaved it completely bare. 50PlusMILFs: How long ago? KELLY: Probably a couple of years ago. I just got carried away with the razor and kept going. You don't want to show any hair when you're doing underwear modeling. But I got a little carried away, then it was crooked on one side and I had to even it up, so pretty soon I just said, "Screw it. We'll do it all." It was unintentional. 50PlusMILFs: When you go to the beach, do you wear a bikini? KELLY: It's kind of half and half. The top of my bathing suit is attached to the bottom. It just comes up. 50PlusMILFs: Does the bush overflow at all? KELLY: Oh, yeah! 50PlusMILFs: What kind of reactions do you get? KELLY: I try not to go off somewhere by myself because I think a lot of times you have to be careful around kids. 50PlusMILFs: But when guys see you, they must go out of their minds. KELLY: Oh, yeah, they look. If they're really young, I might tease them a little bit and see what happens. Usually I sit up and watch the waves on the beach, you can see them turn around and look. The bush overflows. 50PlusMILFs: In the era of shaved pussy, your bush is unusual. KELLY: And it's dark. It's not a blond bush. It's not like it's going to blend in with everything. I'm a natural brunette.
More 50+ Scenes »